A couple have earned praise online after coming up with a hilariously inventive way to hit back at their demanding siblings this Christmas.
According to Gallup, consumers in the U.S. expect to spend approximately $886 on Christmas gifts on average in 2021. That's more than any amount previously predicted over the past 20 years.
However, at least one couple appears to be taking a stand against the rampant festive consumerism. In a post shared to the MaliciousCompliance Subreddit on Reddit, a man described how he and his wife decided to get revenge on their siblings after they were "basically ordered" to buy their nieces and nephews expensive gifts this Christmas.
According to the post, their siblings reasoned that they could afford to as they were "well off." That description apparently irked the couple who, according to the man, are "not really" well off but just "financially responsible."
As a result of the demands, the couple "decided to be vindictive this year" by getting their nieces and nephews a series of gifts designed to stress out their parents.
The list of gifts already purchased includes Play Dough, which the man notes "sticks to everything" as well as five kilograms of multi-colored Kinetic Sand which he assures "gets everywhere."
Their list of diabolically brilliant gifts also includes "gooey slime," some "easy fill water balloons," and an "age appropriate" Nerf gun for good measure. "This should be a fun Christmas," the man posting writes.
In an update on the post, the man explained that they deliberately avoided things like drums and other noisy toys as his "sisters work nights at the hospital."
He also stressed that much expense was spared with the gifts purchased. "You demand someone expensive gifts; you get cheap and annoying ones instead," he wrote. "But will the children care? No. They'll think it's the best Christmas ever."
The man added that the idea could even form the basis of a "new Christmas tradition" depending on if his siblings are "naughty or nice."
Petty, vindictive and highly amusing, the man's efforts proved popular on Reddit, with the post racking up more than 33,000 upvotes and a ton of suggestions from similarly devious users.
"Buy stickers online," HHCE91 wrote. "Look for the ones with terrible reviews because they're not peeling off again."
"Glitter," GG-OO suggested. "Lots, and lots of glitter for the kids to do crafts with."
"They'll love Yellies," Steelong commented. "It's a toy spider that goes faster the louder you shout. No need to give them a loud toy, give a toy that only works when you're loud."
Cynner69 added: "Perler beads. So much multicolor aggravation in little tiny orbs. Great fall and trip potential too!" Jasped, meanwhile, suggested: "You should add some Spider-Man web slingers with five packs of silly string to refill. You know, the type that is colored and gets everywhere. Especially the ceiling."
This viral Christmas post comes hot on the heels of an adorable video of a dog wrapped up in gift paper ahead of the festivities on December 25 and a clip posted online by a woman championing a neat trick for making your house smell suitably festive.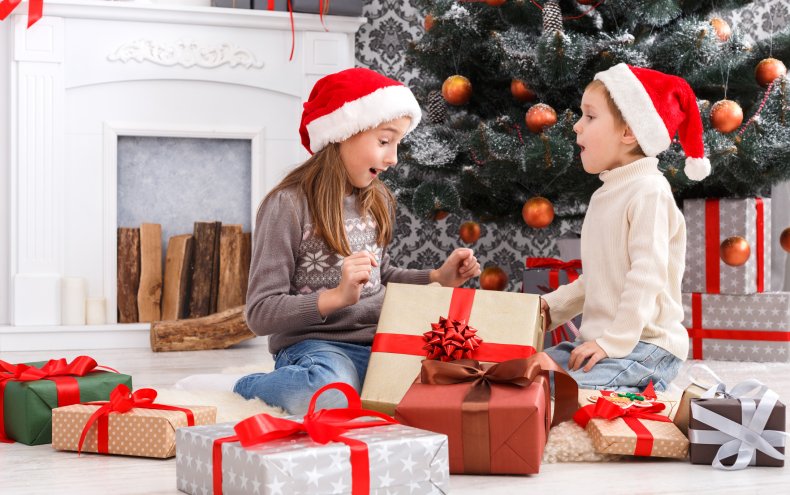 https://www.newsweek.com/couple-buy-deliberately-annoying-christmas-gifts-nieces-nephews-reddit-1656821