Apple's iPhone 13 lineup led global smartphone revenues to a new high of $448 billion in 2021, Counterpoint reports.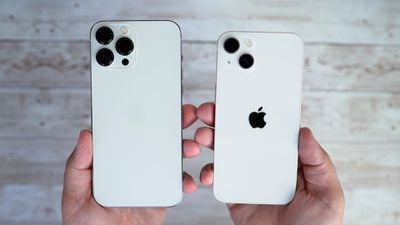 Smartphone revenues grew seven percent year-on-year and 12 percent quarter-on-quarter in the fourth quarter of 2021, despite difficulties caused by component shortages. Apple's iPhone revenue is believed to have increased 35 percent year-on-year to $196 billion in 2021, its highest ever quarterly revenue. This enabled it to capture 44 percent of total global smartphone revenue that year.
As well as leading global revenues to the new high, the success of the ‌iPhone 13‌ lineup pushed up the average selling price of smartphones by 12 percent year-on-year in the fourth quarter of 2021. This was also aided by the proliferation of 5G-enabled devices, which made up more than 40 percent of global smartphone shipments in 2021, compared to just 18 percent in 2020.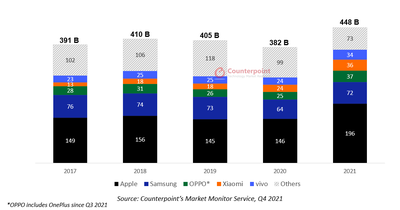 The average selling price of iPhones also increased by 14 percent due to demand for the iPhone 12 and ‌iPhone 13‌ lineups, reaching $825. Apple also bolstered its market share with gains in key emerging markets, including India, Thailand, Vietnam and Brazil.
The top five smartphone brands contributed more than 85 percent of the total smartphone revenue. Samsung's smartphone revenue increased by 11 percent year-on-year, while Xiaomi and Oppo increased by 49 percent and 47 percent respectively. Amid rapid expansion, both Xiaomi and Oppo recently set out plans to directly challenge Apple on a global scale in the premium smartphone segment.
Related Stories
Apple's Services Achieve All-Time Quarterly Revenue Record
Apple today reported services revenue of $18.27 billion in the fourth quarter of its 2021 fiscal year, which is an all-time quarterly revenue record. The company's services revenue was up around 25% from $14.54 billion in the year-ago quarter. Apple's services category includes revenue generated from the App Store, Apple Music, Apple Arcade, Apple Pay, Apple Card, Apple TV+, Apple News+,…
iPhone Was the Most Popular Smartphone in Q4 2021
iPhones accounted for around one-fifth of all smartphone shipments in the fourth quarter of 2021, allowing Apple to reclaim first place as the biggest smartphone vendor, according to a report from Canalys. Canalys estimates that the iPhone accounted for 22 percent of worldwide smartphone shipments in the fourth quarter of 2021. The scale of Apple's shipments is thanks to strong demand for…
Xiaomi Pledges 'War of Life and Death' Against Apple to Become World's Biggest Smartphone Brand
Xiaomi intends to step up its challenge to Apple, the company's founder announced this week (via South China Morning Post). Xiaomi founder and chief executive Lei Jun said on Chinese social media platform Weibo that the company will specifically focus on the high-end segment of the global smartphone market in an effort to directly rival Apple, attempting to fill the void left by Huawei….
Apple Leaps Up Fortune Global 500 Rankings
Apple has leaped from third to first place for profit and from twelfth to sixth place for revenue in the Fortune Global 500 rankings of the world's biggest companies. After reaching a record high of $33.3 trillion in last year's rankings, total revenue for the world's biggest companies fell 4.8 percent to $31.7 trillion this year. Even so, the combined sales of all of the companies on the…
Xiaomi Surpasses Apple to Become Number Two Worldwide Smartphone Vendor in Q2 2021
Apple was the number three worldwide smartphone vendor in the second quarter of 2021, according to smartphone shipment estimates shared today by Canalys. Apple's iPhone sales were surpassed by smartphone sales from Samsung and Chinese smartphone maker Xiaomi, with Xiaomi surpassing Apple and taking the number two spot for the first time. Samsung was the most popular smartphone vendor with …
iPhone 13 Holding Value Much Better Than Any Other iPhone After Launch
Two months after its launch, the iPhone 13 lineup is seeing unprecedented low levels of depreciation, according to research by SellCell. SellCell's research, based on data from 45 buyback vendors, shows that the iPhone 13 has the best value retention of any iPhone in the first two months after its launch. Overall, the iPhone 13 models have only depreciated by 25.5 percent on average. By…
Apple Expected to Report Best Quarter in Company History
Apple will report its earnings results for the fourth quarter of 2021 on Thursday, and it could be the best quarter in the company's history. Wall Street analysts on average estimate that Apple will report revenue of $118.3 billion for the quarter, according to Yahoo Finance. This figure would be an all-time quarterly revenue record for Apple, topping the $111.4 billion that it earned in the …
Popular Stories
Top Stories: Apple Watch, iOS 16, Mac, and Dual USB-C Charger Rumors
We're less than two months out from WWDC, and Apple-related rumors are surfacing with increasing frequency. The latest batch includes an overview of upcoming Macs based on the next-generation M2 chip family, plans for the Apple Watch Series 8 and future models, what might be Apple's first USB charger with multiple ports, and a few software details about iOS 16. Other news this week included…
20+ New iOS 16, iPadOS 16, and watchOS 9 Features and Improvements Rumored to Arrive at WWDC 2022
The Worldwide Developers Conference (WWDC), Apple's annual developer and software-oriented conference, is now less than two months away. In line with previous years, Apple is likely to introduce major updates to all of its operating systems, including watchOS 9, iOS 16, iPadOS 16, macOS 13, and tvOS 16, bringing new functionality and a more refined experience to existing devices. Subscribe to …
Apple Testing at Least Nine New Macs With Four Different M2 Chip Variants
Apple is internally testing several variants of the next-generation M2 chip and the updated Macs that will be equipped with them, reports Bloomberg, citing developer logs. There are "at least" nine new Macs in development that use four different M2 chips that are successors to the current M1 chips. Apple is working on devices with standard M2 chips, the M2 Pro, the M2 Max, and a successor to …
TSMC on Track to Start 3nm Chip Production in Second Half of This Year
Apple chipmaking partner TSMC says it will be ready to move its 3nm chip process to volume production in the second half of this year, putting it on track to supply Apple with the next-generation technology in 2023 (via DigiTimes). "We expect the ramp of N3 to be driven by both HPC [high performance computing] and smartphone applications," said Wei during an April 14 earnings conference call….
Deals: Save Up to $99 on AirPods Max, AirPods 2, AirPods 3, and AirPods Pro
Apple's entire current AirPods lineup is seeing notable low prices on Amazon, with up to $99 off the AirPods Max, AirPods 2, AirPods 3, and AirPods Pro. Note: MacRumors is an affiliate partner with Amazon. When you click a link and make a purchase, we may receive a small payment, which helps us keep the site running. AirPods 2 Amazon has the AirPods 2 at $99.00, down from $129.00. This…
Netflix Apple TV App Now Uses Redesigned tvOS 15 Video Player
Netflix is currently in the process of rolling out an update to its Apple TV app, introducing support for the tvOS 15 player. As noted on Reddit and Twitter (via 9to5Mac), the updated interface began appearing on Apple TVs earlier this week in version 2.1.23 of the app. The tvOS 15 native player displays show and movie titles in a larger type on the bottom of the screen above the playback…
15 Mac Tips and Tricks You Need to Know
There are plenty of hidden features and shortcuts that Apple has built into macOS over the years, ranging from keyboard commands to less than obvious settings. These small hacks can improve your workflow and make your Mac experience more customized, so we've highlighted several tips and tricks that you might not know in our latest YouTube video. Subscribe to the MacRumors YouTube channel for …
https://www.macrumors.com/2022/02/25/iphone-13-led-revenues-to-record-high/