A mom has asked for advice after her friend announced she was getting married "on the other side of the world"—and that children wouldn't be allowed to attend.
The woman, based in Europe, shared her dilemma to Mumsnet as she revealed her friend was planning to tie the knot in Australia.
Poster SunnySideUp2020 captioned the post "friend's weddings overseas, no kids… what am I supposed to do."
In the post, shared on Tuesday, the mom shared more information, and her glee at the invite before she realized it was a child-free event.
She said: "A good friend is having her wedding on the other side of the world.
We had been talking about how exciting it will be to reunite for the special occasion since she got engaged in the summer.
"I just received the invite. It says no kids…and I had a baby early last year. She will be too young to stay with anyone especially in a foreign country.
"What am I supposed to say? Sorry can't come because I have a baby? I mean she knows I do!!!"
In further posts she shared more details, as she confirmed she met her friend in the U.K., where they both lived, but as her friend was originally Australian she was having her wedding in her home country.
She ran through a couple of solutions, adding: "My daughter never stayed with anyone and since we have no friends or family around isn't able to stay with anyone. COVID and all… she isn't very social in that sense."
And she admitted she "wasn't comfortable" leaving her daughter with hotel childcare.
"DH [dear husband] and I planned to go together with the baby or toddler to be and treat it as a holiday just with a stop at the wedding," the mom added.
She also revealed it would be her daughter's two-year-old birthday that week, so they could have made the trip into a bigger celebration.
She thought about bringing her mother-in-law as a babysitter, but admitted it would be "quite costly," adding she also works, while she said holidaying with the in-laws "wouldn't be the same."
She added: "Her wedding isn't in a part of Oz I am personally interested in but I would have gone for her if it meant we all could go to the wedding.
"DH met her and her fiancé before. But no I wouldn't ask him to not come to look after DD [dear daughter. I Don't think that's fair. Unless he offers obviously."
That being said, the mom reckoned: "First I am not even sure I'll be able to go with COVID."
While she speculated how hard a long-haul flight would be with a "cranky" toddler.
Lots of Advice
Her plight attracted a lot of sympathy and advice, with more than 300 responses.
As Welshmaenad said: "Yeah, you just don't go. It sucks but if she expects people to respect her no kids decision she has to accept that some parents will be unable to attend."
PleasantBirthday commented: "You just can't go. If she's saying that you can't bring a child, she must know that means that people can't attend but has decided that she's OK with that. So it'll hardly be startling news."
Kweeble wrote: "Just don't go—no one can expect others to spend so much on their wedding or to leave their children behind!"
Blossom64265 suggested: "You simply decline because of the baby and wish her a wonderful wedding."
"Well you can't go. This surely won't be a surprise to her," Thewhatsit added.
Sadly the mom resigned herself to declining the invite, and not asking for an exception, adding: "Btw I totally understand why childfree couples won't have kids at their wedding. And their invite states that they want people to enjoy the day… not look after their kids.
"I used to think that way. Now that I am a mum I would not ask people to leave their little ones to come to my wedding though… because I know it's not just 'find a babysitter and sorted.'"
While the mom didn't specify exactly which country she's based in, return flights from Europe's major cities cost hundreds of dollars—per person.
In addition, flights often require a stop-over, meaning a journey Down Under can take up to 29 hours depending on the point of origin.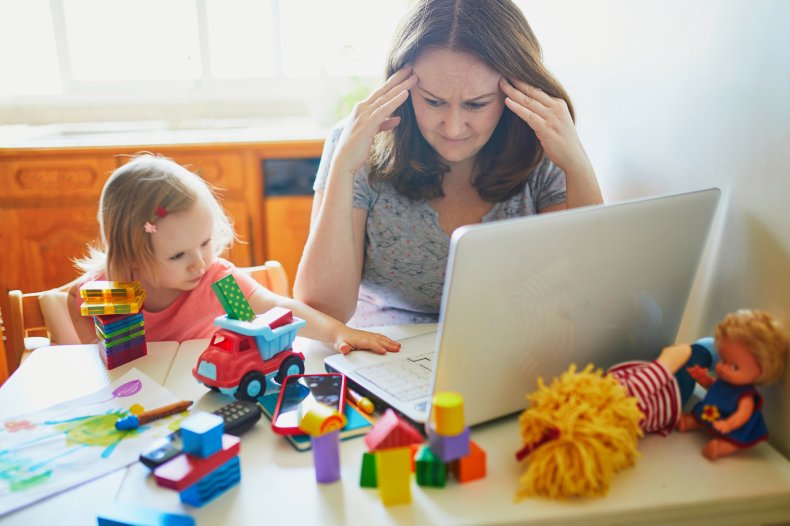 https://www.newsweek.com/mom-fuming-friend-bans-kids-wedding-overseas-internet-advice-1669025