Are you starting to travel more regularly again? Let me suggest some of my favorite pieces of technology and bags that will make traveling convenient. It's simple enough to throw every cable you can imagine into a huge bag, but that only creates more problems while you're out and exploring. With some thoughtfully picked cables, wall chargers, stands and bags, you can have everything you need in a compact and organized place.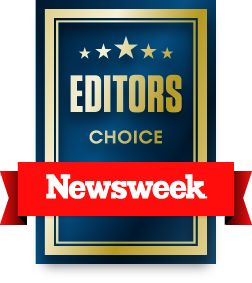 Crafting a small pouch of a few select items to cover any situation that may arise while traveling has been my goal for years. Technological advancements like the iPad Pro and computers both use USB-C ports to charge and have helped slim down my bag. It has almost made finding the single best charger that much more important.
Below are gear picks that are not necessarily new, but they have all been tested and found to work really well. There are a few duplicate product options because, frankly, there is a lot of great travel gear out there. As always, the prices listed may fluctuate over time.
Aer Slim Pouch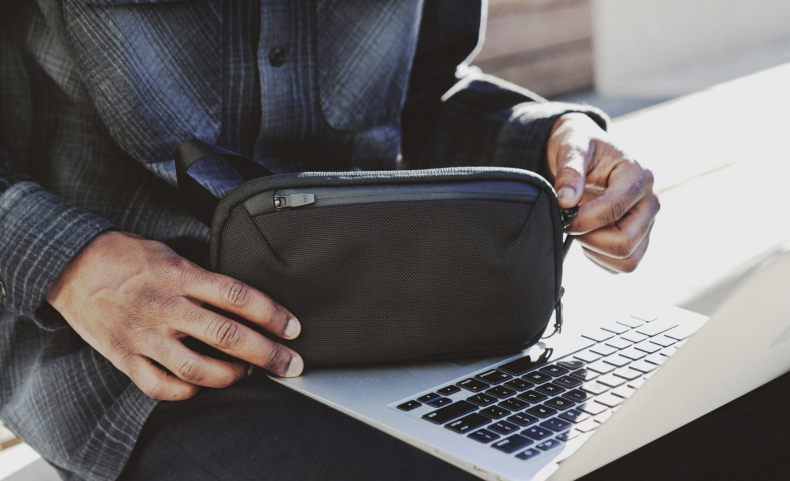 Finding the perfect tech pouch has been a minor obsession of mine for several years. The one I'm happiest with at the moment is the Aer Slim Pouch. The obvious crux of a tech pouch is that it needs to hold all the accessories I might use while traveling, but, in my opinion, it should also be compact.
The Slim Pouch unzips in the center and opens wide enough to expose all the compartments. Internally, it has four pockets of varying sizes with a large slot I use for my longest USB-C cable. Outside there's a shallow pocket I use for the ElevationLab GoStand, ChapStick and a 3.5 millimeter headphone adapter.
Buy at Aer for $39.
Bellroy Lite Duffel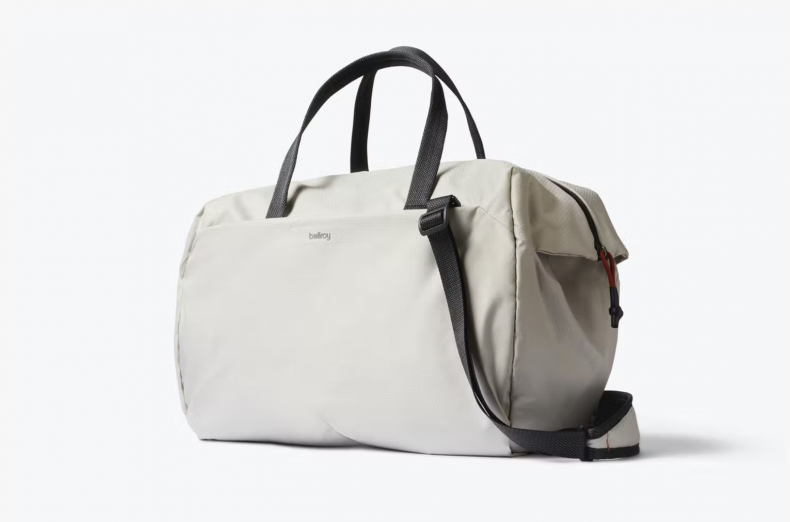 This Bellroy Lite Duffel is like a magician's top hat, holding more than it may appear. It doesn't matter if I'm traveling for one day or a long weekend, this 30-liter bag can contain an extraordinary amount of clothes. Making the most of its compact size, the duffel bag can be unzipped in either direction and opens wide for easy access. It has a few internal pockets that can fit things like a rolled-up belt. To top it off, I'm a big fan of the ripstop fabric the bag uses. It's made from 100 percent recycled plastic bottles and feels extremely lightweight.
Buy at Bellroy for $119.
Satechi 66W USB-C 3-Port GaN Wall Charger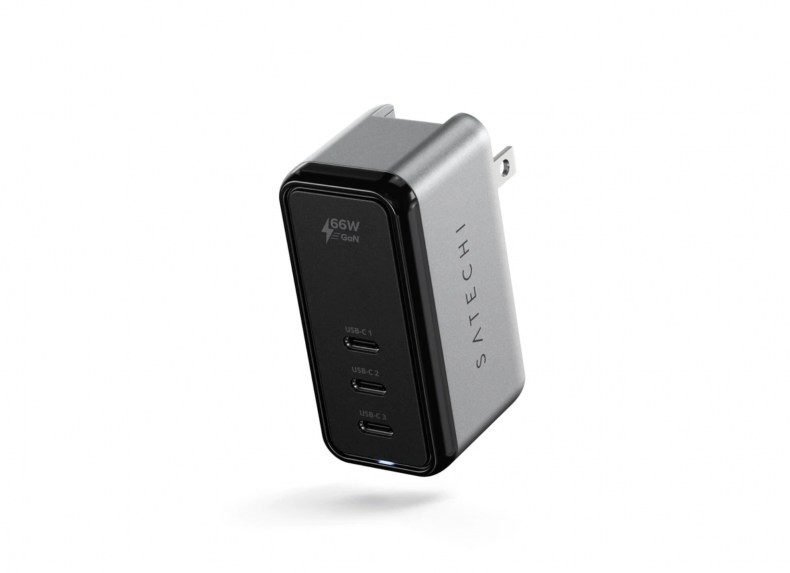 There are a lot of fine wall chargers but few that are great to travel with. Power is the lifeblood of your whole tech pouch and keeping all your devices powered up is incredibly important. But you don't want to bring multiple chargers if possible. That's why I like this Satechi 66W USB-C 3-Port Gan Wall Charger: It has multiple ports in a compact design.
The total 66 watts charging speed is sufficient for most laptops to charge in a timely manner. Even when dividing the power output between three devices, available power should be sufficient. At this point, I think USB-C is used widely enough that exclusively relying on that port type on this charger is acceptable.
Buy at Satechi for $54.99.
Nimble Champ Portable Charger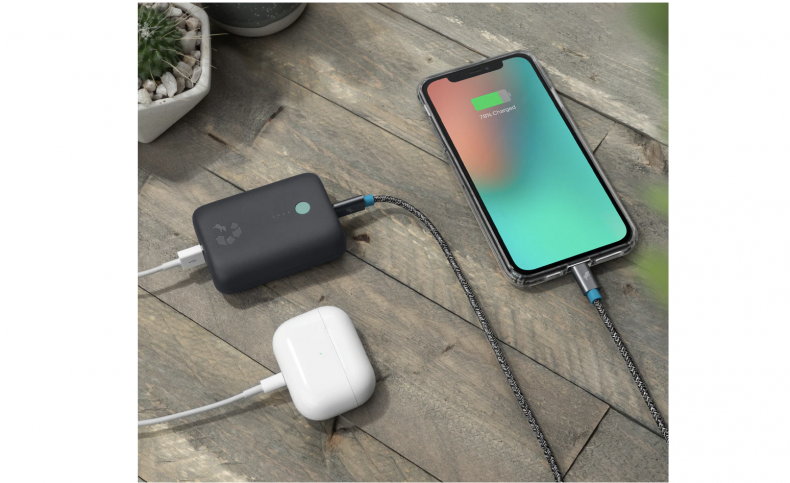 I consider a battery pack a key part of my travel pouch. You never know when your phone, tablet or laptop will need a little more battery life. The Nimble Champ Portable Charger is my favorite, primarily because the 10,000 mAh version is so small. It can fit almost anywhere. Beyond size, the charger can be used with a USB-A or USB-C cable. You can also use both ports to charge two devices at the same time.
This portable battery doesn't have a huge capacity, but it should be enough to give your phone two full charges. It can also give a larger device a little life in a pinch.
Buy at Nimble for $49.95.
Otterbox ​​Wireless Power Bank for MagSafe 5K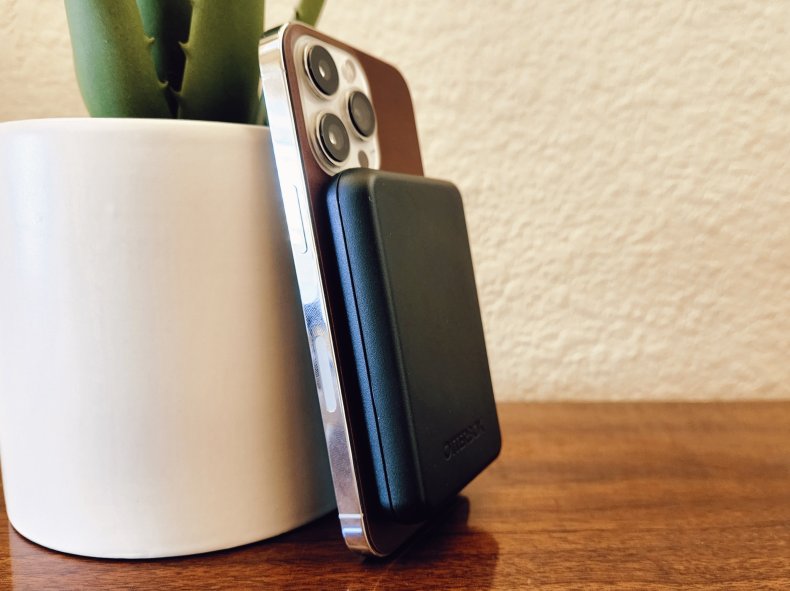 Another option for a portable battery is the Otterbox Wireless Power Bank for MagSafe 5K. If you have an iPhone 12 or more recent, this battery pack can be magnetically attached to the back of the phone with no cables needed. This product is especially helpful for days when you'll be out and about and can't carry many accessories with you. The other nice feature of this particular device is that it can be recharged without using a cable. You can place this battery on top of another MagSafe charger to replenish it.
Buy at Otterbox for $69.99.
Apple MagSafe Duo Charger

If you have an Apple Watch, then you'll need to carry a dedicated charger for that device. I like this dual charger because it combines a wireless iPhone charger with an Apple Watch charger. When the Apple MagSafe Duo is folded up, it's thin enough to not take up too much space in a bag. Plus, only a single Lightning cable is needed to give the Duo its power, meaning fewer cables need to be brought along.
Buy at Amazon for $119.
ElevationLab GoStand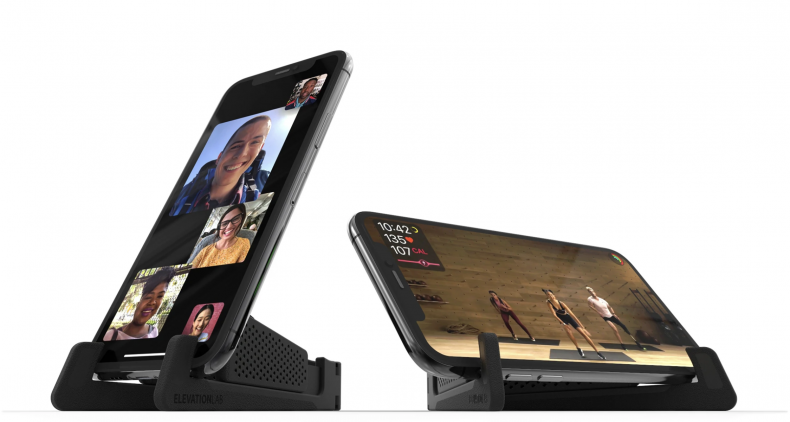 Recently while flying, I sat in the exit aisle, so I had to put my backpack up in the overhead compartment. I opted to just watch a show on my phone instead of trying to pull out multiple devices. The Elevation GoStand is perfect for propping up a phone in portrait or landscape on a small airplane tray table. It works great for a video call in a hotel room. It can adjust to accommodate all size phones and their cases, too. Best of all, the GoStand is extremely compact when folded up.
Buy at ElevationLab for $19.95.
Anker Powerline III USB-C Cable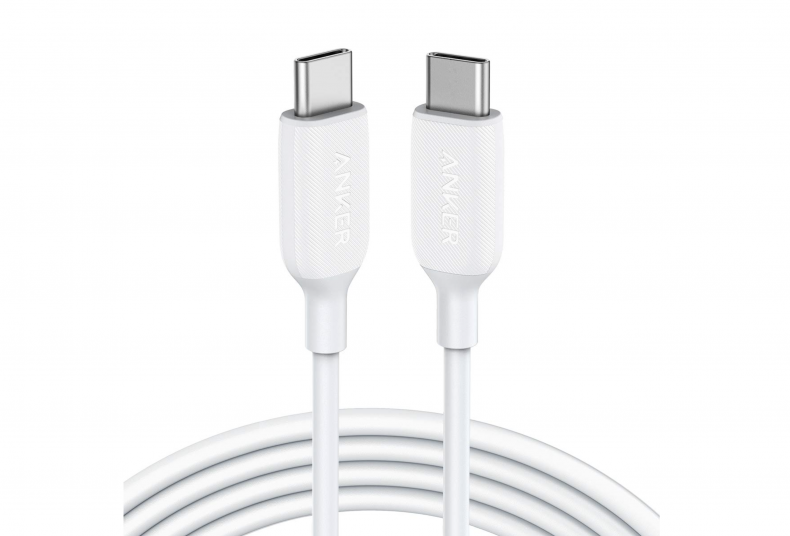 There's nothing special about these Anker Powerline III USB-C cables except that they tend to be reliable and come in different lengths. Personally, I like to have a few short, 1-foot cables with me because they take up less space in a pouch. Short cables are also more manageable on a plane, bus or in a car.
If you do need a 10-foot option there's one of those available, as well. These cables top out at 60 watts of charging speed, but most people will be fine with that.
Buy at Amazon from 16.99.
Belkin Braided USB C to Lightning Cable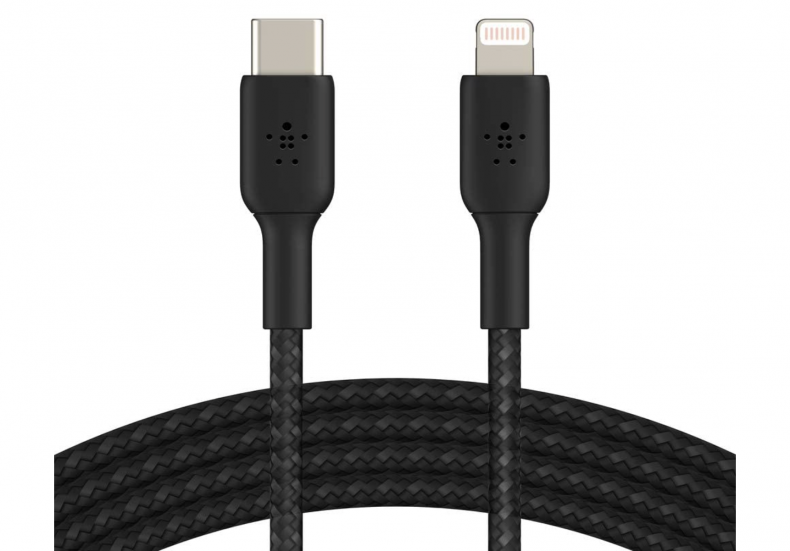 You can use the USB-C to Lightning cable that came with your iPhone, but this Belkin Braided USB C to Lightning Cable is a great replacement. It supports the fastest iPhone charging speeds and comes with a magnetic cable management accessory.
Buy at Amazon from $15.78.
Kinto Travel Tumbler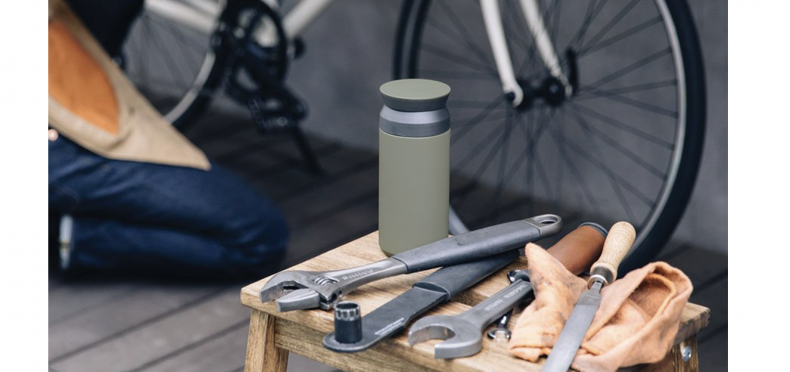 In my opinion, traveling with a water bottle is a must. I've evaluated dozens of water bottles in the past, and the Kinto Travel Tumbler is a great companion. The water bottle is minimal, so it can slip into nearly any side pocket of a bag. The bottle can keep coffee hot for 6 hours or a drink cold for 6 hours—and chilled for much longer. The actual bottle features a top lid and a removable cap that can be sipped from any side. It's an elegant design that comes in two sizes: 12 ounces and 17 ounces.
Buy at Kinto from $32.50.
Day Owl Backpack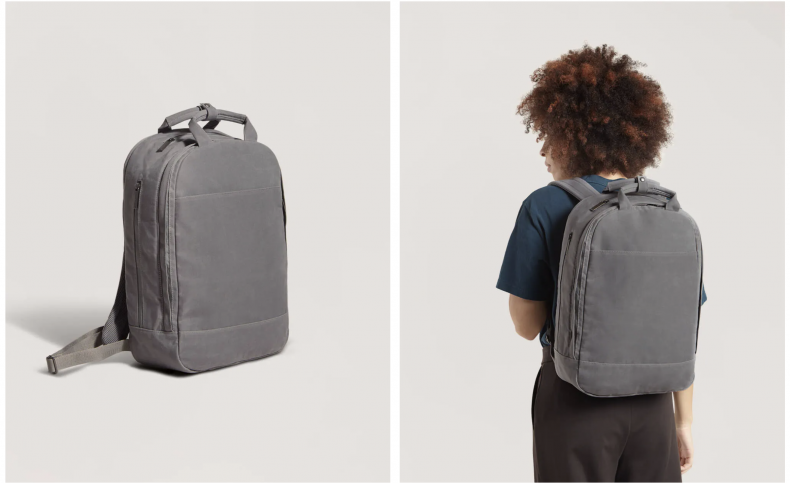 There are a few key design choices on the Backpack from Day Owl that I really like for travel. I appreciate that the water bottle holder on the side is completely concealed. Running through a terminal to catch a flight? No bottle is falling out of the zippered pocket. I also like the shallow top and side zippered pockets to stash glasses or a wallet very quickly. I'm a big fan of the shoulder straps, which can adjust without a dangling cord, like almost every other backpack ever made.
The main backpack compartment is spacious for a sweater or large headphones, but it still has some minimal organization to keep the smaller items from tumbling around. From the outside, this backpack is unassuming and minimal, but it has enough tricks to keep it continually useful no matter the type of trip. I also love the materials it's made of. The exterior canvas feels tough, while most of the interior is smooth and welcoming.
Buy at Day Owl for $149.
Nomad Pen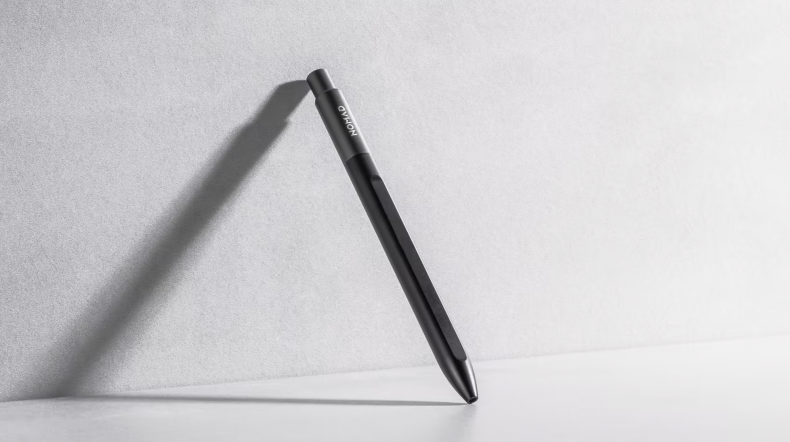 Quickly noting a phone number or some flight information? I've found it helpful to travel with a good pen. There's nothing fancy about the Nomad Pen other than it's very durable. It has a solid metal body and a smooth click button. There are no clips or anything that can break off. It uses a Schmidt EasyFlow 9000 ink cartridge that can be refilled, too.
Buy at Nomad for $49.95.
Copper Cow Coffee Classic Black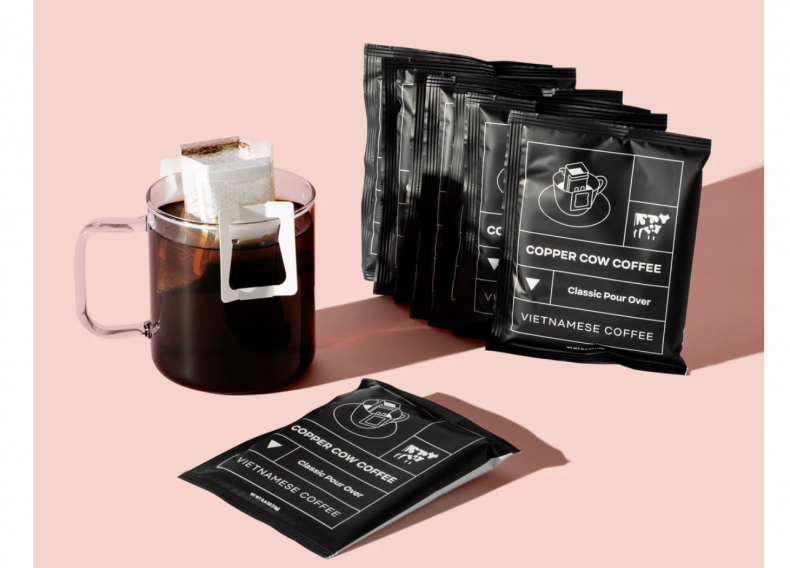 There are some logistical challenges with bringing coffee on a trip: primarily all the additional gear needed to make it. The instant packs from Copper Cow Coffee solve most of these concerns with a unique pouch of coffee grounds that hooks onto any cup or tumbler. If a hotel room has a Keurig machine, I'll pour in water and run it with no K-Cup pods, simply to get hot water and use that to pour over a Classic Black packet of coffee. If you do want creamer, Copper Cow Coffee sells individual creamer packets, as well.
Even better than Copper Cow's functionality is its coffee's taste. It's good enough that sometimes I'll use these at home when I'm in a rush. It makes a worthy cup of coffee.
Buy at Copper Cow Coffee from $11.20.
Bellroy Transit Backpack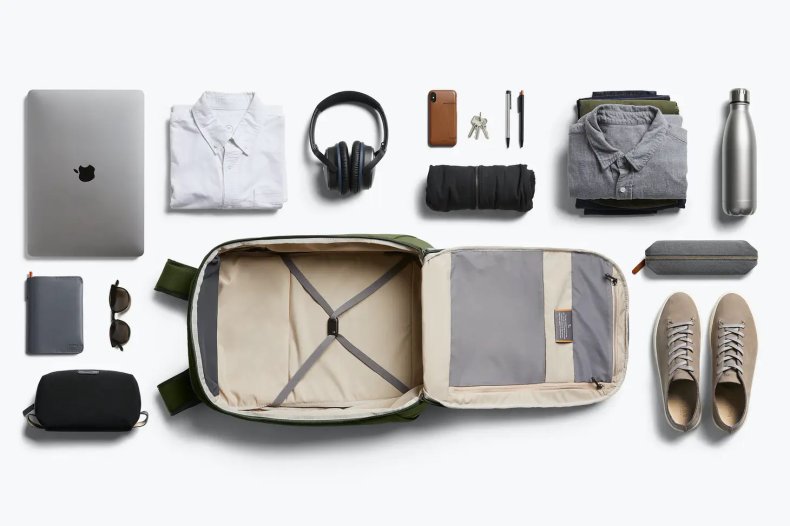 With a little self-control, the Bellroy Transit Backpack could be the only travel bag you need for short trips. The 28-liter capacity model can hold shoes and a few clothing items, as well as a laptop and tech pouch. The Transit Backpack is unassuming, with a fully enclosed water bottle pocket on the side and a laptop compartment for up to a 16-inch computer.
I managed to use this backpack as my only luggage for a quick cross-country trip, and it worked great. It held everything I needed it to without feeling overly bulky, a trait I attribute to Bellroy's focused design acumen. This backpack comes in a few different capacities, but if you're unsure about size, I would stick with this middle size.
Buy at Bellroy for $239.
Moft Snap-On Phone Stand and Wallet

If space is at a premium, the Moft Snap-On Phone Stand and Wallet is a great way to combine multiple items. The thin wallet can hold a couple of cards and attaches magnetically to the back of iPhones 12 and 13. It also unfolds to become a stand for the phone in either portrait or landscape. This is a minimal piece of gear I've used to prop up my phone on an airline tray and in a hotel room.
Buy at Moft for $29.99.
Newsweek may earn a commission from links on this page, but we only recommend products we back. We participate in various affiliate marketing programs, which means we may get paid commissions on editorially chosen products purchased through our links to retailer sites.
https://www.newsweek.com/tested-best-travel-technology-gear-2022-1695701